Truck 245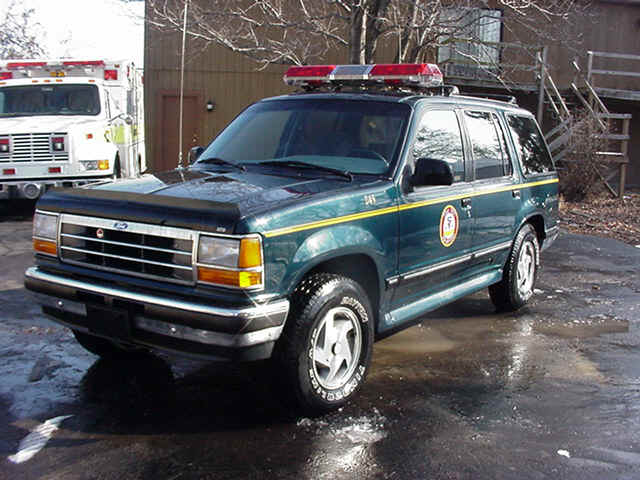 Truck 245 is a 1993 Ford Explorer. Although it carries almost all of the needed equipment to make farm calls, its mission is to serve as a back-up vehicle to Truck 267, operate using its 4 wheel drive during snowy weather, and to be a service vehicle for veterinary associates and interns.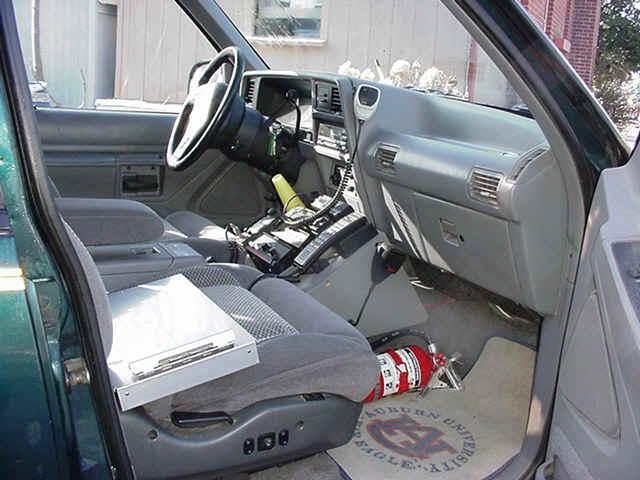 The front of the truck has necessary safety equipment along with a complete communications panel. There is a VHF radio for use with Bullitt County DES and the TRACER Rescue Team. In addition, an 800 MHz trunking radio is used to communicate with the practice office and with the other truck. A wireless telephone allows contact with clients. Emergency equipment is available for Code-3 responses when authorized.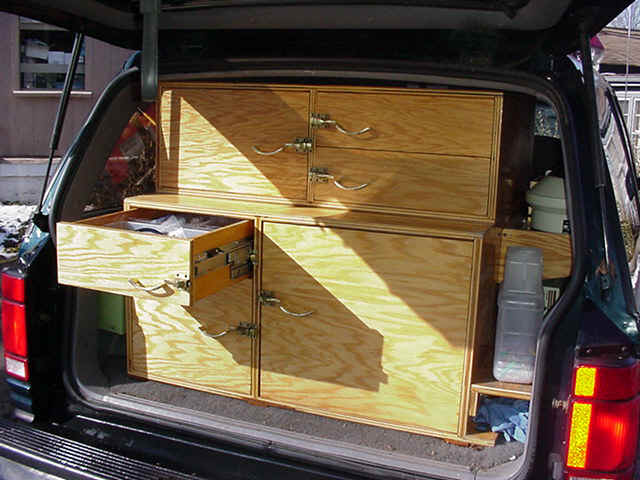 The oak cabinets in the rear provide easy access to drugs and exam equipment.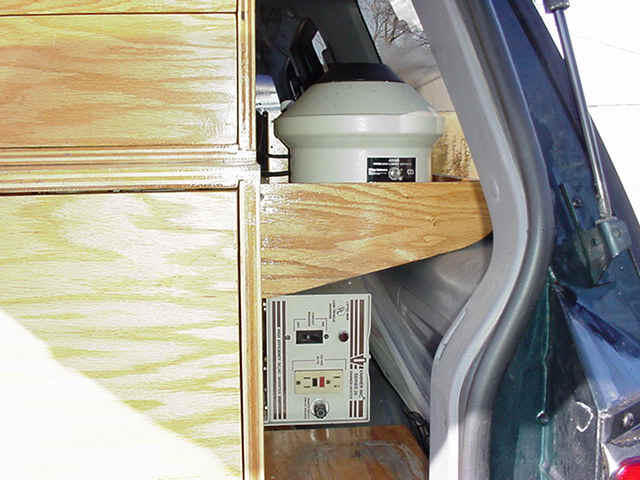 An inverter supplies 120 volt AC electrical power from the vehicle battery, and there is a centrifuge to obtain emergency laboratory analysis of blood when needed.
Truck 267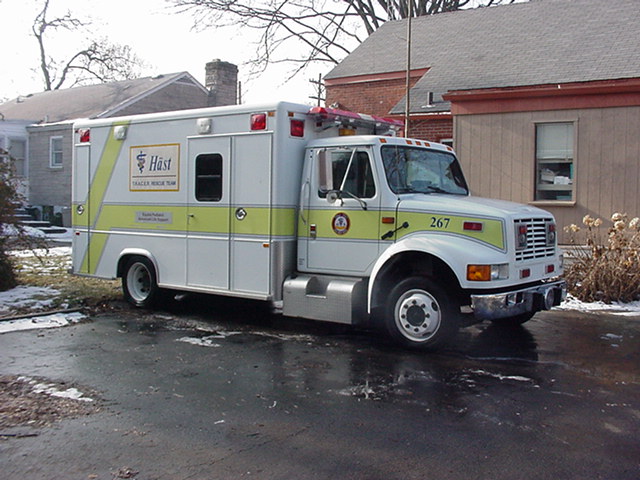 Truck 267 is the work horse of the practice. The chassis is a 1991 International 4700 Low Profile with air suspension. It is powered by an International DTA-360 over the road type diesel engine. Like Truck 245, it is equipped with a full range of radios for responding to any type of emergency, be it horse or human. A head set intercom system provides communications between the driver, passenger, and an attendent in the rear. One compartment is dedicated to the human response capabilities with an EMT jump bag. There is other gear and rope specifically for swift water, cave, and high angle rescue scenarios.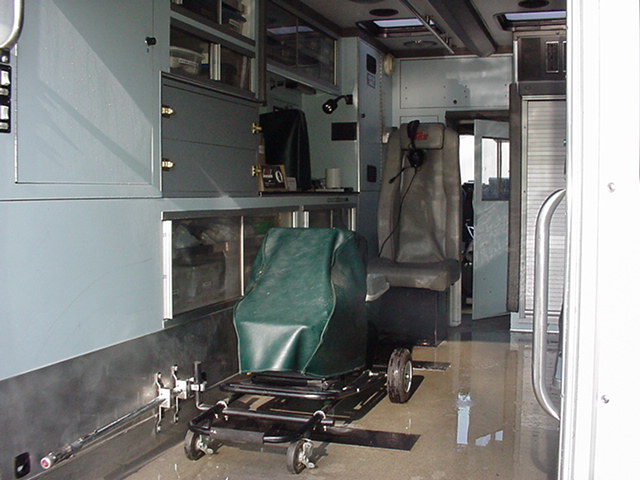 The rear doors open up to a work area that provides shelter during inclement weather. Seen is the ultrasound machine locked into the quick release holder. There is plenty of space for transporting critically ill foals to the hospital.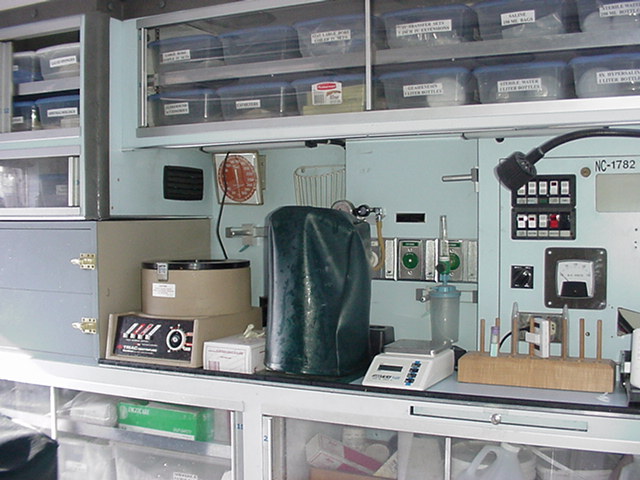 The "Action" area contains a centrifuge, microscope, scales, and other laboratory equipment for emergency field evaluation of patients as well as routine breeding procedures.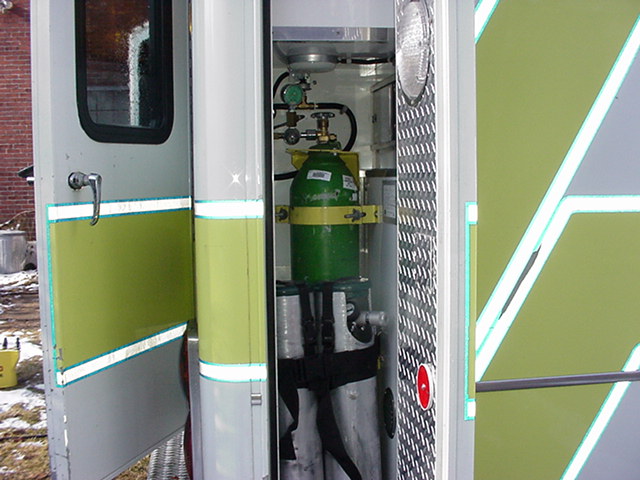 The truck is equipped with a central oxygen supply as well as small transportable oxygen cylinders for use in a stall for foals, or in a cave or over a cliff for humans. (The disposable oxygen masks and endotracheal tubes are kept separate, for obvious reasons.)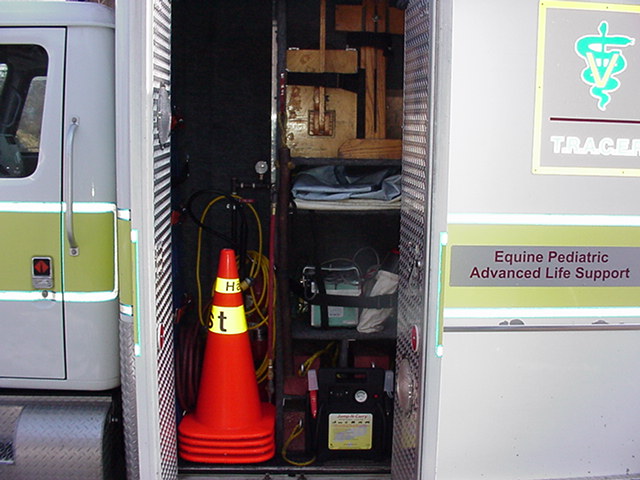 The left side compartment containes an X-ray machine, plates, lead aprons, and positioning devices. In addition, there is a 100 PSI air supply for operating the air driven dental tools, and any other air tool that might be needed. Safety equipment such as traffic cones, wheel chauks, reflective vest, and a jump box are in this area. Hidden is the long board which can be used to transport a foal or stabilize a human patient.
Additional features are planned for Truck 267 including an on board pressurized water system and a radiographic viewing area. Expanded communications capabilities are planned for both vehicles which will include a 450 MHz Trunking/Conventional radio and a 1.6 GHz satellite radio.
This page:
25 October 2004